Another Afternoon At Ascot!
Ladies day saw the return of the annual Thatch trip to the races. We were joined in the morning by 26 lovely ladies with 20 chaps in tow. Bubbles were flowing from the off, responsibly accompanied by some bacon sarnies to prepare us for what was to come.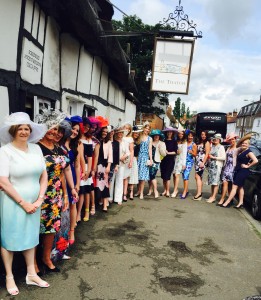 The ladies were lined up by our ever the opportunity seeking marketer for a photo shoot, it took a while to assemble the group and avoid clashing of hats, but we got there eventually, and they all looked stunning.
The group, and as much Prosecco as we all could carry clambered onto the bus, with Evelin and Mrs Sutherland doing their best trolly dolly impression throughout the journey, bashing up and down the aisle ensuring no glass was ever empty.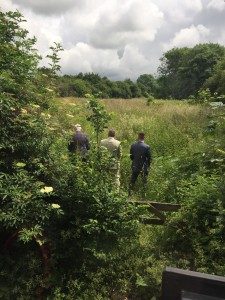 In fact, I will go as far as to say they were almost successful in their role, as with 5 miles to go, some of the older gents in the group could cope no more, and a scenic stop to relieve themselves in a pretty field was required.
Following some rigorous hand washing, plentiful picnic hampers were consumed by the coach – pork pies, scotch eggs, sandwiches and crisps, followed by chocolate brownies. Mmm.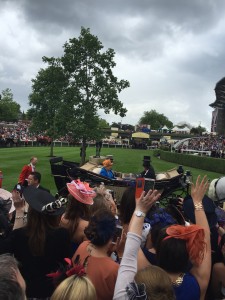 After what felt like miles of heels stuck in grass, the ladies just about made it in time to see the Queen swing by in her fluorescent orange hat and blue dress.
Apparently there was a big footy game on, but this being ladies day, none was watched by us (ok, I confess, I might have dipped in and out on the old iPhone). Everyone knew when someone scored as the Windsor Enclosure erupted in cheers!
There were various reports of wins throughout the day, notably from our marauding marketer Sophie, who bankrupted two bookies protesting it was beginners luck! Mrs Sutherland came along and disagreed strongly with my betting strategy, and she was right – it felt like the national debt had been lost!
Half way through the afternoon, we received message that the right hand man of Evelin, my right hand lady, had been whisked into hospital for an emergency appendix related operation – after much pushing and protesting to stay – we packed her off in a taxi.
Which then, left yours truly in charge of 45 people – at least I was sober (honest). No, this news came to me whilst sampling the fine wines of the wine bar. Knowing I had the full support of Mrs Sutherland and our very lucky Sophie, – I decided to have another large glass of wine and start judging my favourite hats of the day.
We ended up leaving slightly late due to a couple of lost stragglers, our lovely bus driver was a little annoyed, but we made it up to him with a crisp packet full of tip in return for his inconvenience!
Oh well – back to the Thatch it was, for one last night cap and dinner for a few of the night owls.
As usual, a few sore heads the next day but nothing too serious, (apart from Goldie! Who is thankfully now out of hospital, and on the mend).
Fraze